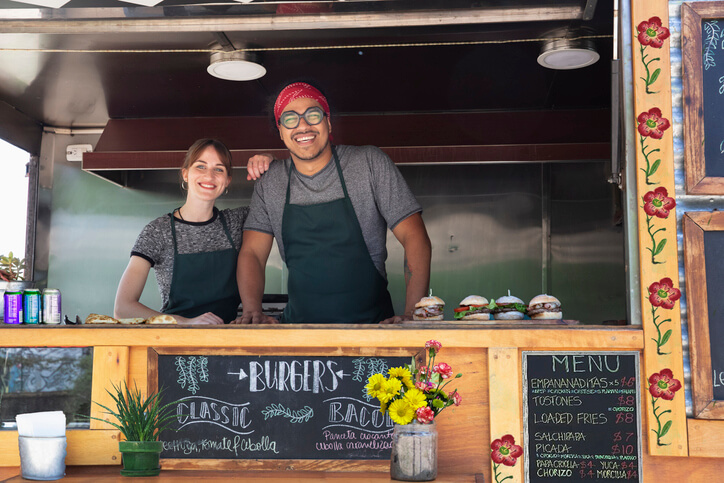 By starting a business, you gain more than just a paycheck. You gain independence, purpose, and satisfaction from a job well done. But it's not always easy to come up with business ideas, especially when you face stiff competition from other business owners. Here are some of the best small business ideas that you can use.
Open a Food Truck
Have you ever wanted to open your own restaurant but weren't sure how to navigate the startup costs? A food truck offers a streamlined way to connect to your customers with less hassle than opening a brick-and-mortar eatery.
With food trucks rising in popularity, you'll have no trouble finding a loyal customer base. Additionally, many communities organize events and food truck festivals that you can participate in.
You can also set yourself apart by offering a niche menu or even just providing coffee and pastries. A dedicated website can help customers keep track of where you'll be, so you always stay within easy reach.
Digital Marketing
In the business world, every company is attempting to gain an edge over its competition. If you enjoy strategizing and implementing marketing plans, consider starting a business as a digital marketing consultant.
The advantage of this business idea is that it's in high demand and requires little startup costs. You'll need to showcase familiarity in areas such as:
SEO
Social media management
Web development
Pay-per-click advertising
This business gives you the freedom to work from home, and its scalable nature allows you to tackle bigger projects and ensure reliable revenue.
Accounting and Bookkeeping
Though this is one of the more specialized business ideas on this list, the field of accounting is rapidly changing. As a result, many companies are no longer interested in hiring a full-time bookkeeper or CPA and instead opt to outsource their financial needs to an external firm.
If you have some bookkeeping background (or better yet, if you're a CPA), you can capitalize on this trend by marketing yourself as a freelance accountant. Companies gain access to your knowledge and experience without the cost of filling a full-time position.
As your business expands, you'll be able to attract other financial professionals to diversify your services and specific areas of expertise. This approach allows your business to grow and adapt to market demands as you become a part of this emerging trend of professional financial services.
General Contracting
As home prices rise, many home buyers opt for an older fixer-upper to save money. But that also means that they'll need to perform numerous structural improvements along the way. Meanwhile, real estate investors will need to make structural and aesthetic improvements to rent their properties or flip them for a profit.
That's where you come in. If you have experience in the construction industry, you might offer your services in providing renovation projects, electrical work, HVAC, and more. These skills are always in demand and can provide a solid basis for starting your own company.
Web Design
Web design used to require a lot of technical knowledge and an eye for design. But these days, there are countless point-and-click web design tools that can be learned quickly and easily. If you're reasonably tech-savvy, you can start a business designing web pages and blog layouts for other companies.
As a web designer, you'll have the flexibility that comes from working from home, but as you gain experience, you'll develop a broader portfolio of designs, styles, and features. Additionally, you'll only get faster and more efficient, which translates into higher profits.
Start a Franchise
Starting a business can be challenging, so why not invest in a business with a proven track record of success? You'll partner with a company that already enjoys instant name recognition and an identifiable customer experience by starting a franchise.
As a franchise owner, you'll also gain access to the resources and guidance provided by the franchisor. And the U.S. Small Business Association offers loans specifically designed for franchise owners, giving you easier access to funding than if you'd started a business on your own.
Are There Any Franchises Near Me?
If you'd like to consider how a franchise can help you realize your business ideas, visit the website for Franchise Gator. You can use our search tool to locate franchise opportunities in your area and learn more about franchising through our blog page and other web content. Check it out today to see what opportunities await you.
---