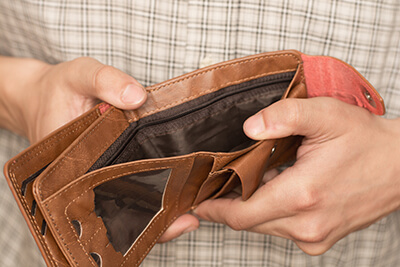 In a flash of inspiration, you now have a business idea that you believe in. There's just one problem: starting a business takes money, which you don't have. Funding your business from your personal savings might sound tempting, but that can be very risky. Here are some strategies for starting your first business when you have little to no money.
Create a Compelling Business Plan
No matter how confident you are in your business idea, you'll need a well-written plan to make it concrete. A good business plan should include:
An executive summary
A description of your business
A description of your products and services
Marketing analysis and strategy
A description of your management team
Financial projections
Funding request
A business plan should be your first step — not just because it will keep you focused — but because potential lenders and investors will expect to see your plan before approving you for any sort of funding.
Get a Loan
An obvious next step would be to get a small business loan. And if you're not sure where to start, your local bank may already offer lending programs.
The best loans are those backed by the U.S. Small Business Administration (SBA). However, these loans can be hard to obtain, and you may still have to personally guarantee the loan, which puts at least a portion of your personal assets in jeopardy if things don't pan out.
On the other hand, if you consider starting a franchise, the SBA offers loans designed for this exact purpose. These loans can be easier to obtain, which can help you get your business up and running faster.
Offer Services that Generate Cash Flow
Depending on the nature of your business, you might be able to offer some limited services to generate cash flow that you can work with. For example, you might be able to offer some web development services to your clients as you build the rest of your business.
Providing a service won't cost you very much in terms of overhead, and the money you bring in can be reinvested in your company. Additionally, you might start to build a pre-existing customer base that you can tap into once your business gets rolling.
Build a Prototype
If you're starting a business selling a particular product, consider building a prototype. For starters, it will allow you to determine whether your vision translates to reality, and you might be able to work out any bugs before taking it to market.
Once your prototype is built, you can generate interest by testing it with focus groups and start exploring ways to market your product. And if you need additional funding, your lender or investor may be more willing to approve you for a loan if they can see that you have a workable product.
Apply for a Grant
Grants are another way to receive money when starting your first business. On the one hand, you won't usually have to pay the investor back, though grants tend to be even more stringent than small business loans.
Grants are typically awarded to underrepresented social groups, such as African American or female entrepreneurs, but can also be given to veterans or those starting a business in a developing area.
The Small Business Administration is a great place to start looking for national grants but check with your local Chamber of Commerce. They may be able to connect you with local programs that can help you get your idea off the ground.
Crowdsourcing
Finally, there's always the option of starting a business the Beatles' way: "with a little help from my friends." Crowdsourcing (or "crowdfunding") allows you to receive donations through an online network of donors. This is another reason to have a prototype, as this will make it easier to persuade others to back your idea or product.
Keep in mind that crowdfunding websites do charge a percentage, but this is a fairly nominal fee. You might also consider offering a special promotional offer to encourage donations, such as exclusive access when your product officially hits the market.
Start a Franchise
Franchise Gator understands the difficulty that comes from starting your own business. That's why we offer a locator tool that can help you find franchising opportunities in your area.
Franchises aren't free, but you can get funded faster than other businesses, with fewer risks, thanks to the track record of an established company. Start your search today, and make tomorrow's dreams come alive.
---