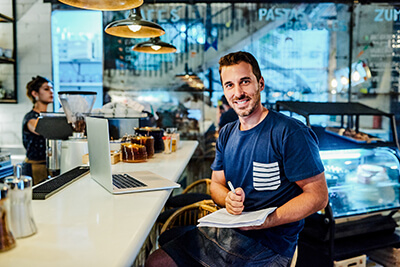 Making a business plan is important no matter what industry you're in. If you're opening a restaurant, your business plan needs to reflect the unique needs and services that your restaurant provides. This guide will walk you through the process of writing a business plan if you're starting a business as a restaurant owner.
Executive Summary
Every business plan should begin with an executive summary, and a restaurant is no different. This section should provide a high-level description of your restaurant, its services, and your overall goals. Aim for around 500 words or less since you'll want this section to be an easy read for lenders, investors, and potential business partners.
Restaurant Description
This section is really where your restaurant business plan truly stands out from other businesses. For starters, you'll include your business name and geographic location, but you'll also want to cover items such as:
Restaurant size and seating capacity
Service style (casual dining, fine dining, counter, drive-thru, etc.)
Operating hours
Style of cuisine (American, Italian, Asian fusion, etc.)
Ambiance and atmosphere (décor, music, etc.)
You might also include any unique selling points that can add to your business. For example, if you're located near a business complex or college, this may give you a greater chance of doing business during lunch hours.
Sample Menu
When making a business plan for other industries, it's usually common to include product descriptions. The same is true for a restaurant, though this means creating a sample menu to help others understand what you're selling.
Your sample menu should abide by several considerations, such as:
Tailoring your design and descriptions to your customer base
Including descriptions that capture what the item is
Using the same branding as the rest of your restaurant
You might also use call-out boxes or other design features to highlight unique menu items or direct attention to high-revenue items that can help expand your business.
Target Market Analysis
If you're starting a business for the first time, you'll need to understand who you're trying to reach. This section should include some information about your target market. Think through questions like:
What type of diner would your restaurant attract?
Are there any trends related to your type of restaurant or cuisine?
How is your restaurant different from others in your area?
If your restaurant occupies a specific niche, it might be helpful to talk about how you intend to capitalize on these trends.
Marketing Strategy
Next, you'll discuss your marketing strategy. For restaurants, this might include digital marketing as well as distributing your menu through a direct mail campaign.
Make sure your marketing strategy matches your restaurant brand and that you lead your customers to actions that fit your dining options. For example, you might use digital marketing tools that prompt viewers to place a to-go order online or direct them to the reservations page of a fine-dining restaurant.
Chefs and Managers
A restaurant business plan should communicate who's in charge. This approach means explaining the credentials of the business owner (or owners in the event of a partnership).
If your restaurant is tailored around the culinary contributions of a unique chef, then you'll want to include their credentials when making a business plan. What is their background, and what is their specialty? These features can add value to your restaurant and can give you a greater sense of legitimacy.
Financial Projections
When you're first starting a business, your financial projections won't be much more than an educated guess. And that's okay. At the very least, make sure that you tabulate your anticipated costs, such as supplies, payroll, equipment, and commercial real estate.
Your financial projections should aim to cover these costs and develop a plan for generating profits within the course of business.
Financial Requests
The chances are that you'll need additional funding to get your restaurant off the ground. This section is particularly important if you're presenting your business plan to a lender or investor. Make sure to include a specific number, which will help others understand how much money you'll need to open your doors.
Why Not Choose a Franchise?
Franchise owners also have to create business plans for their restaurants, but it's a lot simpler when the franchisor guides the startup process.
Why not consider applying to become a franchise owner? Franchise Gator offers a locator tool that you can use to find opportunities near you. Use this tool today and get started as the owner of your own restaurant.
---