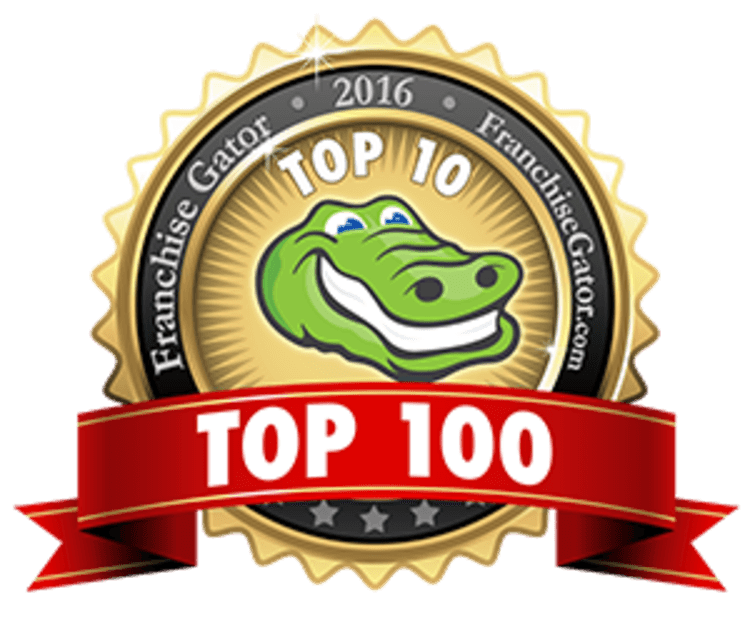 Deciding on which franchise to buy can seem like a daunting task. It can take hours upon hours of research to narrow down the right opportunity, which is why we do the legwork for you with our annual Top 100 List where we identify franchises with strong growth potential and proven track records that are also affordable investments for the average franchise buyer.
This year's Top 10 franchises are at the forefront for financial stability, profitability, franchisee satisfaction, growth, and long-term sustainability. Learn more about owning one of these Top 10 franchise opportunities for 2016:
10. 101 Mobility
Liquid Capital Required: $100,000
Total Investment: $108,660 – $198,420
101 Mobility is one of the largest dealers of mobility solutions with a sales force covering multiple states across the country. Headquartered in Wilmington, North Carolina, 101 Mobility provides and installs a wide range of high-quality mobility equipment including stair lifts, auto lifts, wheelchair ramps, porch lifts, power wheelchairs, and more. 101 Mobility is seeking entrepreneurs with a desire to create something bigger than themselves in an industry that is both rewarding and profitable. Owners must be able to excel in building and managing teams, problem solving, customer service, and relationship building.
9. Color Glo International
Liquid Capital Required: $44,500
Total Investment: $49,500
Color Glo International is the world leader in restoration and repair of leather, vinyl, velour, cloth and hard plastics commonly found in the automotive, aircraft, marine and furniture markets. Skilled technicians worldwide renew and extend the service life of any fabric indefinitely, using Color Glo's proprietary environmentally-safe, water-based restoration system. Buying a Color Glo franchise eliminates all the hard work: finding a location, negotiating a lease, hiring reliable contractors and doing all this on-time and within budget. When you buy a Color Glo franchise you are buying a complete turnkey business.
8. Wild Birds Unlimited
Liquid Capital Required: $40,000 – $50,000
Total Investment: $125,978 – $199,172
Wild Birds Unlimited offers products designed by experts to meet the needs of birds and to be enjoyable for the people who use them. A common theme among franchisees is a real interest and love of birds and nature. Wild Birds Unlimited is looking for new franchise store owners who are committed to fulfilling their dream of opening and developing a business enterprise that allows them to share their love and passion for birds and nature with their local community.
7. Real Property Management
Liquid Capital Required: $75,000
Total Investment: $75,000 – $100,000
Real Property Management franchisees provide services for property owners and investors including screening tenants, processing rental payments, property inspections, maintenance and repairs, and processing evictions. Real Property Management is looking for franchise owners who want to build an ever-growing business and who enjoy networking and know how to sell, or are willing to hire someone who does. Franchisees come from all walks of life and do not need previous real estate or property management experience.
6. Tropical Smoothie Café
Liquid Capital Required: $100,000
Total Investment: $300,000
Tropical Smoothie Café is a quick-casual concept focused on healthier food options including delicious, in-demand smoothies, sandwiches, flatbreads, wraps, and salads. Franchisees understand the importance of incredible customer service and community outreach, and value innovation, creativity, and a competitive mindset. Tropical Smoothie Café is looking for franchisees who believe in "Eat Better-Feel Better" and in providing a great product delivered with exceptional customer service.
5. Kiddie Academy
Liquid Capital Required: $200,000
Total Investment: $413,700 – $673,000
Kiddie Academy® offers educational, center-based child care for busy working families. The proprietary Life Essentials® curriculum provides franchisees and their teaching staff with the tools and expertise needed to deliver a quality educational experience. You do not need a background in education or child care in order to be considered for a Kiddie Academy franchise opportunity.
4. Sport Clips
Liquid Capital Required: $200,000
Total Investment: $168,300 – $326,500
Sport Clips' fun, sports-themed, men's and boys' haircutting concept is so unique it's made them the fastest-growing haircutting franchise in the country. Sport Clips offers a tried-and-true model and uses proven training programs and advanced support tools to ensure that franchisees have every chance of success. Franchisees do not need hair care experience and come from many industries.
3. TWO MEN AND A TRUCK
Liquid Capital Required: $150,000
Total Investment: $178,000 – $550,000
TWO MEN AND A TRUCK® offers an opportunity to drive success both in the moving and franchise industries as the nation's largest franchised local moving company. Franchisees come from diverse educational and professional backgrounds but should be capable of working within systems, possess excellent communications skills, enjoy working with people, and hold a strong desire to grow a business to its full potential.
2. College Hunks Hauling Junk
Liquid Capital Required: $100,000
Total Investment: $100,000 – $200,000
College Hunks Hauling Junk is the fastest-growing junk-hauling franchise and moving franchise in America. College Hunks Hauling Junk has been in demand – from franchisees, customers and the media – because the business is fun and rewarding, and the systems create a great experience for both customers and franchise partners. Franchise owners are from many different age ranges and backgrounds.
1. FASTSIGNS
Liquid Capital Required: $150,000
Total Investment: $168,812 – $308,830
FASTSIGNS is the most recognized brand in the industry, combining Visibility Strategies with Project Services to create custom solutions. Strong strategic direction, proven processes, and a leadership team dedicated to pushing franchise partners to profitability is all part of the FASTSIGNS experience. Ideal candidates and existing franchisees come from all walks of life, however those with strong senior or executive level experience in Sales, Project Management, Technology, or overall Management often do best as this business is about managing relationships and people.
---