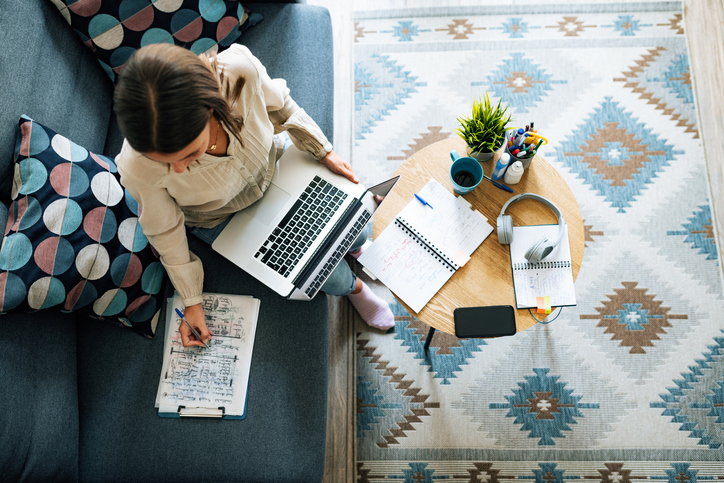 When starting a business, it's important to create a business idea that makes you stand out from the competition. But with so many businesses in operation today, how do you manage to set yourself apart? Success starts with the right idea. If you're looking to start your own business, consider one of these unique business ideas:
Online Tutoring
Since the pandemic began, parents and students have grown accustomed to connecting to educational services over the web. You can take advantage of this by starting a business aimed at helping struggling students.
You'll need at least some knowledge of the subject matter to get started, and the ability to connect with clients. Local schools might be able to help you market your services, but keep in mind that you'll be working with students outside of regular school hours.
Become a Virtual Interior Designer
With more Americans working from home than ever before, many people are making adjustments to their homes to accommodate home offices, exercise equipment, and more.
This shift can be a lucrative business opportunity for those with an eye for interior design. But it can also be one of the more creative business ideas for those who merge their design skills with web-based technology.
Video services allow you to take a virtual tour of a client's home, and augmented reality can be used to demonstrate what products and furniture will look like in a room. Because it's all virtual, you eliminate all geographic barriers, allowing you to serve clients across the country.
Write a Book
What ideas are you passionate about? You may consider putting them down on paper. Writing a book may sound like a daunting task, but if you chip away at it each day, you'll be surprised at how quickly your vision comes together.
But what makes a book one of today's most unique business ideas? It's all in the way you sell your ideas to others. Authors can become entrepreneurs, promoting their books through websites, social media, and more.
You can also develop a podcast or sell subscriptions to exclusive content to generate an ongoing revenue stream, and the passive income you'll earn from sales of your book.
Start a Pet-Walking Service
Are you an animal lover? The chances are that you're not the only one in your neighborhood. But when your neighbors are away at the office, who's taking care of their pets?
You can fill this unique need by starting a dog-walking service. Not only are you filling a specific need in your community, but you get the benefit of fresh air and exercise for yourself. Additionally, if neighboring dogs are friendly enough, you can walk more than one dog at a time to increase your efficiency and your profits.
While you're on the job, make sure to wear a shirt or jacket with your logo, so you'll serve as your own walking advertisement.
Start a Subscription Delivery Service
Today's consumers are all about convenience, so subscription services exist for things like meal kits, grocery delivery, and pet supplies.
Why not start your own subscription service? Offer meal kits, deliver local produce or provide other important items to members of your community.
You can distinguish yourself by offering the same high-quality meal kits and grocery items as your competitors but emphasizing the ability to shop locally and support your local community and farms.
Subscription services have the built-in advantage of repeat customers. Once a client commits to a subscription, you'll have their loyalty long-term.
Open a Franchise
What if your business idea is ready already established in your area? As they say, sometimes competition is validation of a good idea. Starting a franchise allows you to invest in a business idea that's already been proven successful and introduce this product or service to your community.
You might associate franchises with the world of fast-food chains, but franchises can include businesses such as:
Gyms
Tax preparation services
Auto rental services
Hotels
Cleaning companies
Vending machines
Franchise owners benefit from the instant name recognition that comes from working with an established company. In many cases, the franchisor can provide local owners with equipment, training, marketing materials, and other resources at a reduced cost.
Need Help Starting a Business?
Franchise Gator is committed to helping business owners turn their dreams into reality. Just use the tool on the Franchise Gator website to find a franchise in your area. With a franchise, you'll find it easier than ever to launch a business that's as unique as you are.
---