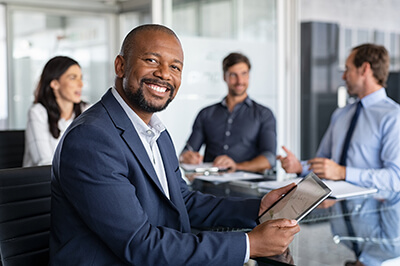 Franchises provide business owners greater security than other startups. When you partner with a well-established company, you get the benefit of their track record and built-in customer base. Even so, some franchises are more profitable than others. So the question is, "What small businesses have the highest success rate?"
Remember, the most successful small business ideas tend to be found in the financial, insurance, and real estate sectors. Here are some of America's top businesses.
Legacy Business Brokers, Inc. (LBB)
Legacy Business Brokers (LBB) is a business brokerage firm with over 20 years of experience. The franchise currently operates in 17 different states, though franchise opportunities are available in most U.S. cities.
As a business broker, you'll manage the sales of U.S. businesses. According to LBB, most brokers earn roughly four times their initial investment within their first year. But perhaps more importantly, LBB franchisees get the benefit of the company's support, including lead generation to help you connect to potential opportunities.
The initial investment requires a minimum of $65,000 with a total investment of $125,000. The company also encourages franchisees to grow the company however they wish, with guidance provided by industry professionals.
Commercial Capital Training Group
Commercial Capital Training specializes in small business funding and boasts of a higher approval rate than most traditional banks. It also advertises competitive financial products to help business owners, which is a much-needed service given today's economy.
No experience is necessary. Commercial Capital Training provides all of the training and support you'll need to get started, including the marketing materials to reach your target market. The lifetime support makes this company a strong one to partner with.
Getting started will require at least $20,000 in liquid capital, and the total investment can run as high as $68,000. But according to Commercial Capital, business owners have the potential to reach a six- to seven-figure income.
HomeVestors of America (HVA)
The real estate market has always been reasonably recession-proof, and real estate investors have the opportunity to assist first-time homebuyers as well as other real estate investors.
HomeVestors currently operates over 1100 franchise locations throughout the United States, though it may be more publicly recognized as the "We Buy Ugly Houses" brand.
HomeVestors franchisees will have access to financing to purchase and repair houses as well as group rates on vacant lot insurance. HVA franchise owners will also have access to an informative website and intensive training and coaching, which means no experience is necessary to launch this franchise.
You'll need at least $80,000 in liquid capital to get started, with a total investment of $80,000 to $456,250, depending on your territory and your level of investment.
Freeway Insurance
Freeway Insurance represents the largest privately-held insurance distributor in the United States. It enjoys a strong reputation for assisting high-risk drivers to get back on the road.
This has long been an overlooked need in the broader insurance industry, so as a franchisee you'd be helping others get a second chance behind the wheel, which is vital for their livelihood.
The company invests heavily in its franchisees, providing initial and ongoing training, marketing support, the latest technological tools, and a confidential operations manual to help you learn the "best practices" as an insurance agent.
Freeway Insurance operates in 23 U.S. states and requires $50,000 in liquid capital to get started. The total investment will range from $61,000 to $113,000, but the insurance industry has proven lucrative enough to deliver a substantive profit.
3% Realty
3% Realty is committed to changing the U.S. real estate market. Its name refers to its 3% flat commission on the home's selling price, but its franchising support system is what distinguishes it from traditional realtors.
The company relies on the latest technology and industry-leading training, which means that you'll need no prior experience to own a franchise.
Its distinctive business model, coupled with its training and support, streamlines the most difficult part of the real estate industry — generating leads. Franchise owners will have a simpler time connecting with potential home buyers and building their business with the support of the franchisor.
Getting started takes $50,000 in liquid capital, but most franchisees can work from a home office, greatly reducing overhead costs. Most franchisees also enjoy a large territory, which enhances expansion opportunities.
Find the Sector that Fits Your Lifestyle
Franchise Gator offers a franchise locator tool that can help you find opportunities in your area. You can also use the tool to filter results by industry. Interested in finding more opportunities like these? Just use our locator tool or contact us today.
---