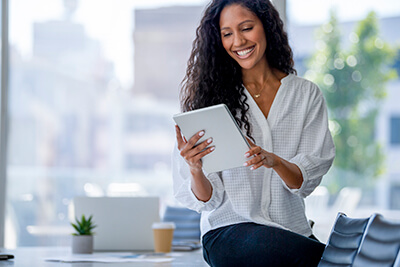 How much does it cost to run a business? The answer, of course, depends on your industry and your goals. Small business loans can help you reach those goals, but it's important to know how much you'll need to start and expand your business. A business loan calculator can help with that.
This guide will help you understand the specifics of small business loans and how they can help you get your business off the ground.
What Is Amortization?
Any business loan calculator will likely include the phrase "amortization." This simply refers to the practice of spreading your loan payments out over time. An amortization schedule will show you how your payments will be applied and how long it will take until your loan completely disappears.
What Determines the Cost of My Loan?
The costs of small business loans are determined by many factors. Each of these factors will affect how to use a business loan calculator.
The Principal Amount
The "principal" refers to the total amount of your loan. Whatever amount you intend to borrow becomes your principal. Usually, the principal is the lion's share of the total cost of the loan.
Interest Rates
Your lender will charge "interest," which refers to the fee you pay to borrow the principal amount. The interest is a set percentage of the total loan amount and will vary based on the following factors:
The loan amount
The term length
Your credit history
The lender
Interest will compound on your loan every month until the entire principal is paid. Part of each payment will be applied to your principal, and the rest goes to interest.
Term Length
The length of your term refers to the time it will take to repay your debt. Determining the term length is a balancing act: a longer term means you'll make smaller payments each month, while a shorter term will mean fewer payments and, usually, a lower amount of interest paid over the loan.
Your Credit History
Your credit score can determine your eligibility for small business loans, and it can also determine your loan terms. With good credit, you'll qualify for lower interest rates and other favorable loan terms.
Fees
Finally, your total loan can be influenced by additional fees, depending on your lender and your industry. Common fees include the following:
Credit check fees
Packaging fees
Closing costs
Appraisal fees (for real estate)
Late payment fees
Though these fees are generally small, they can add to the total cost of your loan. Additionally, late payment fees can cost you in the long run, as late payments can negatively impact your credit.
Loan Term for Small Business Loans
Small business loans vary by term length. Loans backed by the U.S. Small Business Administration are the most sought after because of their favorable term lengths. SBA loans can be as long as 25 years, though this length can vary based on your lender and your intended use of the funds.
For example, below are the maximum SBA loan term lengths based on different types of loans:
Real Estate: 25 years
Equipment: 10 years
Working Capital or Inventory: 10 years
CAPLine Loans: 10 years
Builders CAPLine Loans: 5 years
Your lender might set different terms based on internal policies, your credit history, and other factors.
What's the Cheapest Business Loan to Get?
If your financing needs are relatively low, you might consider a microloan. A microloan is backed by the SBA, but unlike other SBA loan programs, the relaxed eligibility requirements make it easier to secure funding.
Loans are available in amounts as high as $50,000 with the following terms and fees:
Loan Term: Up to 7 years
Interest Rates: Varies, but typically between 6% and 9%
Loan Fees: Up to 3% of the total loan amount
Collateral: Required
The good news is that if you agree to repay the loan within a year, you can secure a lower interest rate, lowering the final cost of your loan.
Cheapest Businesses to Start
If you're interested in a low-cost franchise, then you might consider one of the following:
HealthyYOU Vending: An industry-leading line of health-food vending machines
ABC Seamless: A siding/roofing company
Oxi Fresh Carpet Cleaning: A carpet cleaning provider
LIME Painting: A home improvement company
Commercial Capital Training Group: A lending company
Each of these businesses can be funded for less than $50,000, making them ideal for those relying on microloans.
Find the Right Business Opportunity
Franchise Gator allows you to search for franchise opportunities by startup costs. Use our search tool to find franchises that fit your budget. Try it today, and discover your next business opportunity.
---