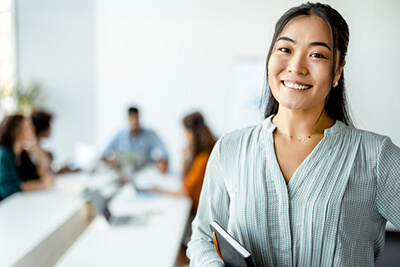 If you're interested in becoming your own boss, but you're worried about the uncertainty of starting a new brand from scratch, buying into a franchise may be a great option! In a franchise deal, a franchisor (or a parent company) licenses its business model, products, or operations out to a franchisee (an individual who operates under the franchise's model). Essentially, a franchise offers the best of both worlds: you can be your own boss while still operating under an established, successful name.
But when it comes to franchises for sale, there are a lot of options out there. How do you find the right fit? Of course, there are things to consider like your lifestyle and interests. But you may also be interested in the different types of franchising and what that means for you as a potential franchisee. Keep reading to find out more about each type of franchise.
What Are the 5 Types of Franchising?
There are five main types of franchises: business format, job, product, investment, and conversion. Below, we take a look at the ins and outs of each category and provide some examples to help you as you start exploring your options.
Business Format Franchise
A business format franchise is the most traditional kind of franchise. Essentially, a franchisee buys into the franchise model. In return, they are granted the license to operate under franchisor's name. In this type of franchise, parent companies will also typically provide full business plans, training, marketing, and more. Essentially, they'll provide you with the knowledge and information you need to run a successful business.
If you're looking for a business format franchise example, they're all around in industries like food, fitness, and retail. Popular names like McDonalds may come to mind, but smaller brands like The Donut Experiment (which requires $50,000 in liquid capital) and School of Rock (which requires $125,000 in liquid capital) are great options, too!
Job Franchise
What is a job franchise? Simply put, a job franchise is a low-cost franchise that can be staffed with five or fewer employees—many are even staffed by one person. Job franchises are named as such because they are designed so that you—the franchisee—do a lot of the work (or the job) yourself. To buy into a job franchise, you can expect to pay a franchise fee, in addition to some startup costs like materials and equipment or a work vehicle. However, because many job franchises are very small operations, you often don't have to worry about bigger expenses, like finding and paying for a storefront.
Job franchises are available in many different industries, so you can likely find an opportunity that fits your lifestyle and interests. Common franchises in this category include travel agencies, computer repair, cleaning, maintenance, plumbing, and more. Take Standard Paints Inc. – Wood Defender as an example. For just $10,000 in liquid capital, you can enter into the fence/deck staining business. Wood Defender provides all the training you need to to work outside and enjoy high profit margins.
Product Franchise
A product franchise, sometimes referred to as a distribution franchise, empowers franchisees to sell the parent company's products or services. In many instances, the franchisor manufacturers the products and distributes them to franchisees to sell. In return, the franchisee pays a fee to be able to use the parent company's trademark and product names.
Product franchises rely heavily on a franchisee's ability to sell the product. As such, many franchise opportunities in this category fall into the retail space. What is an example of product franchising? Vending machines, appliance retailers, car dealerships, and computer retailers are all common types of product franchises. Healthier 4 U Vending requires just $30,000 in liquid capital to start. From there you gain access to ultra-high quality machines that can be placed virtually anywhere.
Investment Franchise
Investment franchises are just that: investments. These types of franchises have a high cost of entry—especially at the start—as locations have to be secured, built, or remodeled. However, because these businesses are often quite large, they bring with them a particularly high chance of profitability.
Oftentimes, an investment franchise is purchased by an investor. Rather than running the business themselves, they hire a management team to take care of the day-to-day work. Common investment franchise examples include restaurant groups and hotels. The Brass Tap – Craft Beer Bar, for instance, requires at least $250,000 in liquid capital. This upscale bar offers 40-60 different craft beers on tap, perfect for an investor looking to build out an alternative to traditional sports bars.
Conversion Franchise
What is a conversion franchise? Conversion franchises are somewhat unique from the other categories we've discussed. This type of franchise occurs when an existing business is looking to expand their company. Rather than growing it on their own, they enter into a relationship with an existing franchise company and convert their own business into a franchise unit. Then, they adopt the parent company's marketing, trademarks, and practices.
By converting into a franchise, the new franchisee gains a proven business model, empowering them to expand into new markets with the success of a parent company standing behind them. While a conversion franchise can occur in most industries, they are most common in areas like real estate, financial services, and home services. Take Ace Hardware, for example. They've been America's neighborhood hardware retailer for nearly 100 years and are a great option for new franchisees or existing business owners looking to convert into a franchise.
Find Your Fit with Franchise Gator!
No matter what type of franchise sounds up your alley, you've got a lot of options. FranchiseGator.com makes it easy to search by industry, location, and investment so you can find the perfect franchise opportunity. Check out our full listings to get started today.
---