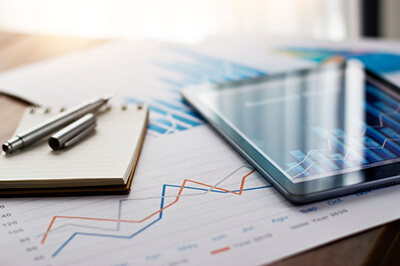 If you're thinking about getting into the franchising game, then you're probably wondering what your options are. You'll certainly want to explore franchise-friendly industries that appeal to you, whether that means fast food, gyms, retail, home services, or something else entirely. Can owning a franchise make you rich, though? Are there low-cost franchises with high profit you can invest in, to help ensure success?
The short answer to each of these questions is yes. You can make a decent amount of money if you choose the right opportunity. We get it, though. With hundreds—even thousands—of franchises for sale, zeroing in on the perfect investment can feel overwhelming.
Don't fret! In this blog, we're going to describe some of the "X factors" that can impact your potential franchise profit margin and provide a few examples of the best franchises to own in 2022.
What Determines a Franchise's Profitability?
A franchise's potential profitability depends on more than just finding the cheapest, most profitable franchise and going for it. The qualities you should consider include things like:
The state of the industry it's in. Ideally, you'll want to invest in an industry that shows immediate as well as long-term growth. On a related note, businesses that rely on a subscription model—a gym franchise, for example—offer especially promising opportunities.
Raw sales numbers. While it's not always the case, generally, the more revenue the business brings in, the better the opportunity to see great profit margins.
Net profits. If the franchise brings in a good amount of money but costs are too high, you're not likely to see impressive profits, at least not right out of the gate. Franchises with low staff and training requirements and relatively low operating costs tend to see higher profits overall.
Brand recognition. "Big name" franchises—McDonald's, Starbucks, and the like—come with a great advantage, in that a majority of people are already familiar with them. This means you may not need to invest quite as much in the way of publicity and marketing, which can be pricey and exhausting. For franchises that don't come with that level of brand recognition, they will typically offer their franchisees guidance and best practices to get you started!
At FranchiseGator.com, you can learn more about the factors that define the best franchise opportunities. Check out our overall Top 100 Franchises, browse by industry, or you view our fastest growing and top emerging franchises.
What Are the Most Profitable Franchises for 2022?
While there are profitable options within virtually every franchise-able industry, many of the best opportunities center around three categories:
Food & Restaurants
Health & Fitness
Education & Tutoring
Within each of these industries, we'll discuss some of the most profitable opportunities for your consideration. We'll describe the business itself, and provide two important, profit-related numbers for each franchise: liquid capital required and total investment.
Liquid Capital Required refers to cash you have available or could access without a traditional loan (e.g., family, stocks, retirement plans).
Total Investment refers to the total amount you can expect to pay (over time) to get the franchise operational.
Profitable Food & Restaurant Franchises
When they hear the word "franchise," many people automatically think of restaurants, especially fast food. There are several benefits to investing in a restaurant franchise. For one, everyone eats! If your franchise is connected with a well-known, established brand, you benefit from an established and loyal customer base.
Three of the most profitable food franchises are McDonald's, Sonic, and Chick-fil-A.
The world's largest fast food chain nears the #1 spot on virtually every list you might come across of franchises you should consider investing in. McDonald's has been franchising for nearly 70 years, with over 33,500 franchise units.
Liquid Capital Required: $750,000
Total Investment: $989,352 – $2,217,045
This beloved American drive-in chain has been in business for over 60 years, with locations in most states across the nation. It's a well-known—and growing—brand as well, making it another ripe opportunity.
Liquid Capital Required: $500,000
Total Investment: $1,020,000 – $1,770,000
Established in 1967, you can now find local Chick-fil-A restaurant franchises in 47 of the 50 states. One of the things that set this chain apart from a branding perspective is their well-documented commitment to customer service. If you've been in one of their locations, then you've probably heard their trademark "My pleasure!" response to customer requests.
Liquid Capital Required: $10,000
Total Investment: $130,975 – $1,044,200
Profitable Health & Fitness Franchises
Just like people have to eat, many are also concerned with working off the calories. You can find fitness centers, gyms, and personal trainers virtually anywhere, so you know there's a market. Since these types of franchises typically employ a membership or subscription model, recurring revenue is a built-in feature for franchisees. It's a high-ROI industry with plenty of opportunities.
Three of the most profitable health and fitness franchises are Anytime Fitness, Orangetheory, and Crunch Fitness.
To set themselves apart in the industry, Anytime Fitness caters to members who need flexible, available, and affordable options for keeping in shape. Unofficially, they boast a new member sign-up every minute of every day. The promise, and actuality, of success compels some franchisees to open multiple Anytime Fitness locations, further multiplying their potential for profit.
Liquid Capital Required: $100,000
Total Investment: $94,430 – $523,824
Establishing their first studio in 2010, Orangetheory is a relatively new franchising opportunity. They've made a name for themselves through their unique focus on heart rate-monitored, high-intensity interval training. This has helped them build up a loyal (and energized!) customer base.
Liquid Capital Required: $100,000
Total Investment: $167,075 – $352,475
Like Orangetheory, Crunch Fitness was established in 2010, and quickly gained a reputation for being home to state-of-the-art equipment for cardio and strength workouts. Crunch Fitness locations are staffed by high-quality personal trainers, and they offer a wide range of fitness classes to engage beginners, devoted fitness enthusiasts, and everyone in between.
Liquid Capital Required: $300,000
Total Investment: $304,500 – $1,395,500
Profitable Education & Tutoring Franchises
Like restaurants and fitness centers, education is another industry that's proving to be quite recession-proof. Knowledge is power, after all, and it's pretty unfathomable to think people's desire to learn and grow is going to suddenly fade. This makes investing in an education franchise a great option, especially if you have a passion for teaching and learning.
Three of the most profitable education franchises are Primrose Schools, Kiddie Academy, and Kumon Math and Reading Centers.
There are over 400 independently owned and operated Primrose Schools locations spread across 29 states. When a franchisee invests in a Primrose School, they're provided with a proven business model and an innovative approach to early education, something they call Balanced Learning®.
Liquid Capital Required: $350,000
Total Investment: $637,900 – $6,375,500
While Kiddie Academy was founded in 1981, they didn't start franchising until 1992. That's still 30 years in franchising, so you know they're doing something right. By focusing on early childhood learning, Kiddie Academy has carved out its own niche in the world of education. They offer curricula designed for young children ranging from infant and toddler care through preschool, kindergarten, and beyond.
Liquid Capital Required: $250,000
Total Investment: $417,000 – $1,039,000
Entrepreneur's Franchise500® list ranked Kumon Math and Reading Centers the #1 education franchise and #6 overall franchise. These are after-school learning centers where kids of any age or grade level can receive meaningful, confidence-building tutoring in any subject they might be struggling with.
Liquid Capital Required: $70,000
Total Investment: $67,428 – $145,640
Explore Your Options Today
Our website is home to a wide variety of franchising opportunities you can get started with today—including each of the most profitable franchise examples we've linked to in this blog. Depending on how much you've considered your options already, it might make sense for you to browse our franchises by industry, location, or investment level.
If you still have any questions, feel free to review our Frequently Asked Questions or contact us directly with anything you're still not sure about.
---